In the mid 1940�s a team of scientists working for Bell Telephone Labs in Murray Hill, New Jersey, were working to discover a device to replace the then present vacuum tube technology. Vacuum tubes were the only technology available at the time to amplify signals or serve as switching devices in electronics. The problem was that they were expensive, consumed a lot of power, gave off too much heat, and were unreliable, causing a great deal of maintenance.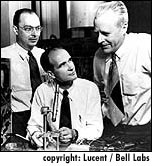 The scientists that were responsible for the 1947 invention of the transistor were: John Bardeen, Walter Brattain, and William Shockley. Bardeen, with a Ph.D. in mathematics and physics from Princeton University, was a specialist in the electron conducting properties of semiconductors. Brattain, Ph.D., was an expert in the nature of the atomic structure of solids at their surface level and solid-state physics. Shockley, Ph.D., was the director of transistor research for Bell Labs.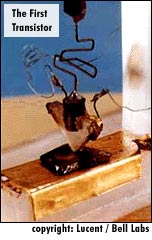 Their original patent name for the transistor was: �Semiconductor amplifier; Three-electrode circuit element utilizing semiconductive materials.� In 1956, the group was awarded the Noble Prize in Physics for their invention of the transistor. In 1977, John Bardeen was awarded the Presidential Medal of Freedom.

References:
Answered by: Stephen Portz, Technology Teacher, Space Coast Middle School, FL





Support US
Our server costs have gone up and our advertising revenue has gone down. You do the math! If you find our site useful, consider donating to keep us going. Thanks!
---
Science Quote
'Every creative act involves ... a new innocence of perception, liberated from the cataract of accepted belief.'

Arthur Koestler
(1905-1983)