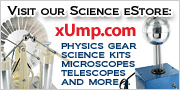 ---
Science Quote
'Where the telescope ends, the microscope begins. Which of the two has the grander view?'
Victor Hugo
(
1802-1885
)
---
Cool Summer Science Projects
Why not make science a part of your family's summer? Perhaps you can set aside one day a week for outdoor projects—maybe Mad Scientist Monday or Scientific Saturday? Here are a few ideas to help get you started.
Continue reading ...
10 Ways to Keep Your Kids Interested In Science
Young children are natural scientists: they ask questions, pick up sticks and bugs outside, and are curious about the world around them. But as they get a bit older, many kids gradually lose their interest in science. They might see it as just another task at school, something that doesn't apply to their lives. Of course nothing could be further from the truth, so here are ten ways you can remind your kids that science is everywhere. Most of these are fun for adults, too!
Continue reading ...
---
Top Selling
Here are our physics & astronomy bestsellers:
Tin Can Robot 4M Kit
Magnetic Levitator - Classic
3D Magnetic Field Tube
KonusScience 5 Way Microscope Kit
Periscope
Revolving Multi-Color Fiberoptic Light
Potato Clock 4M Kit
Mini Plasma Ball
Top Secret - Spinning Top
Clean Water Science 4M Kit

Sponsors