Catch A Shooting Star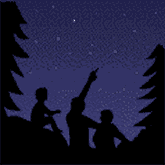 A meteor, sometimes called a 'shooting star,' can be the brightest object in the night sky, yet meteoroids are the smallest bodies in the solar system that can be observed by eye. Wandering through space, perhaps as debris left behind by a comet, meteoroids enter the earth's atmosphere, are heated by friction, and for a few seconds streak across the sky as a meteor with a glowing trail.
A brilliant meteor, called a fireball, may weigh many kilograms, but even a meteor weighing less than a gram can produce a beautiful trail. Some of these visitors from space are large enough to survive (at least partially) their trip through the atmosphere and impact the ground as meteorites. Fireballs are sometimes followed by trails of light that persist for up to 30 minutes; some, called bolides, explode with a loud thunderous sound.
How can a particle the size of a grain of sand produce such a spectacular sight? The answer is the speed at which the meteoroid enters the earth's atmosphere. Many meteoroids travel at 60-70 kilometers per second. During its trip through the atmosphere, meteoroids collide with air molecules, knocking away materials and stripping electrons from the meteor. When the stripped atoms recapture electrons, light is emitted. The color of the light depends on the temperature and the material being 'excited.' Each day as many as 4 billion meteors, most minuscule in size, fall to earth. Their masses total several tons, seemingly a large amount, but negligible compared to the earth's total mass of 6,600,000,000,000,000,000,000 tons.